Have you ever had a red light come on on your motherboard? If yes, then you probably already know that it means something bad has happened. This article will explain what the red light on motherboard means and what you can do about it.
The motherboard is the main circuit board inside your computer. If you notice a blinking or static red light on your motherboard, it means that something might be wrong with it. This could mean that there are problems with your CPU or memory.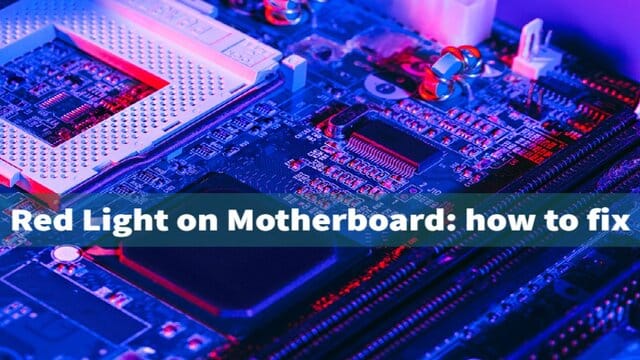 However, there are several reasons why you might see a red light on your motherboard. In this article, we'll discuss some of the common causes of this symptom.
Why do you have a red light on your motherboard?
Red lights are usually caused by overheating. They can also be caused by a short circuit, loose connections, damaged capacitors, bad RAM modules, problems with the graphics card, or a faulty power supply. In some cases, they can even be caused by a virus.
If you think that your motherboard has been damaged, you could also contact the manufacturer of your motherboard. They will give you instructions on how to fix it or replace it and send you a new one.
Pro tip: check the manual!
I don't think I can emphasize this enough, but you have to check your motherboard manual first. Your motherboard manual can tell you a lot about the different light indicators it comes with. Some have multiple motherboard lights, others don't. Beneath those lights, there might be different underwritings indicating where the problem lies. As you can see in this picture, there can be a CPU light, RAM light, BOOT light, etc. The lighting and instructions on how to fix each issue differ and depend on your motherboard manufacturer.
Overheating
The most common cause of a blinking red light is general overheating. A blinking red light indicates that the CPU temperature is too high. If your CPU gets too hot, it can damage itself. To prevent this from happening, you need to keep an eye on the temperature of your CPU.
If you are experiencing this often, you can use a program like SpeedFan to monitor your CPU's temperature.
You can also check the temperature of your CPU using a thermal sensor. Some motherboards have built-in sensors for this purpose. However, if you don't have such a sensor, you can buy one online.
Clean up unnecessary programs
Another thing you can do to lower your CPU's temperature is to turn off unnecessary programs. For example, if you're not using any games, you can disable them. You can also close down unnecessary applications.
Overclocking
Some CPUs might be overclocked, which could cause overheating as well. More about overclocking your CPU can be found here.
BOOT indicator
A flashing red light when booting up your PC can indicate that the BIOS is missing. Your motherboard uses the BIOS (Basic Input Output System) to control all the hardware components of your system. If it cannot access the BIOS settings, it won't be able to start.
Your boot device is the hard drive that contains the operating system of the PC. Make sure it is installed correctly before starting to reboot.
DRAM indicator
When your computer runs slowly, you may find that the problem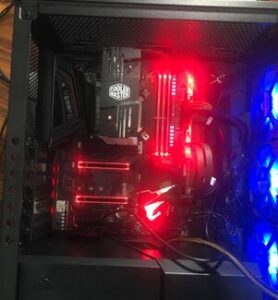 lies with the RAM (Random Access Memory). There are two types of RAM: DDR2 and DDR3.
DDR2 is slower than DDR3 but it costs less. If you want to upgrade your RAM, you should consider upgrading to DDR3.
RAM is very important because it stores data temporarily while your computer is working. A lot of programs run faster when more RAM is installed.
RAM can get corrupted over time. If you notice that your computer is running slower after installing new RAM, then you should try removing the old RAM and replacing it with new ones. Neglecting a corrupted ram could also lead to a red light on motherboard.
When installing your new RAM, make sure you can hear it clicking into the RAM slot.
Power Supply Unit Problems
Sometimes, a power supply unit malfunctions. This can happen if you install a defective power supply or in case there is a problem with your current power source.
The power supply unit may be damaged. If you notice that the red light is constantly on, then you should try using another power supply.
To test whether or not your power supply is malfunctioning, you can connect it to another power outlet. If the red light stays on, then it means that your power supply is broken.
If you notice that the red lights start flashing, then you should immediately disconnect the power supply from the wall socket. Then, follow these steps to troubleshoot the issue.
First, shut down all the devices connected to your computer. Next, unplug all cables except the power cable. Finally, plug only the power cord back into the power adapter.
If the red light still flashes, then the problem lies with the power source or CPU. Keep on reading on what to do if this is the case.
Incorrectly Installed Chipset
Your motherboard contains a chipset. These chips control many things in your computer. One of its functions is to control the speed of your processor.
If you notice a flickering red light on the mobo, then you might have to replace your motherboard itself with a new one.
However, before doing so, make sure that the motherboard has been correctly installed. First, remove the screws holding the motherboard onto the case. Next, carefully lift the motherboard. Make sure that there aren't any loose parts inside the case.
Afterward, reassemble the motherboard by following the instructions provided by the manufacturer.
If the motherboard was incorrectly installed, then you might experience some problems. For example, your computer might be unable to boot and red light could be on the motherboard.
CPU red light on motherboard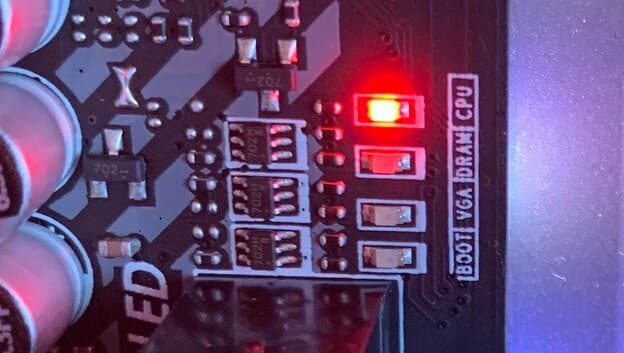 Loose CPU
Your CPU may be loose in its socket. To solve this, you will have to remove the CPU. Check for bend pins. Make sure it is mounted on the motherboard in the right direction. Its lever needs to be bent down.
CPU power error
Check if the CPU power connector is plugged in correctly. Double check if you are using the correct CPU power connector and not the 8-pin PCIe power connector.
Damaged CPU
There is also the possibility of a damaged CPU. Unfortunately, there will be only 1 solution for this: replacing it with a new CPU.
Graphics Card
The only reason I could come up with here is a bad installed graphics card. Make sure you mounted it onto the mobo correctly. Seriously, in most cases, the graphic card wasn't installed correctly. When you take a look at the photo again, the light indicating problems with the video card would be the VGA light.
Remove external peripheral devices
When you have done all of the above and you can still see a static or blinking red light on the motherboard you could also try to remove all peripherals. This is your mouse, keyboard, monitor, external drivers, etc.
Conclusion
The motherboard is the main component of a computer. It contains the processor, memory chips, power supply unit, and other components. When there is a red light on motherboard or when it goes out of order, it causes the computer to malfunction or crash. You want to make sure you don't get a red light on motherboard.
However, if it does happen to you, you better be well prepared. With all of the tricks and hints above, you should already go a long way in fixing the problems. If you can't manage to solve the problem, most likely the problem will be your motherboard itself. Unfortunately, the only solution might be replacing the defective motherboard.
Thank you for reading this article. In case you are still left with any questions, feel free to drop them below.
Greetings,
Stijn