Have you ever noticed an orange light on your motherboard? If you have, then you're not alone. Many computer owners have reported seeing this mysterious orange glow emanating from their machines. But what does it mean and should you be worried? In this article, we'll explore the mystery of the orange light on motherboard and provide some helpful tips to help keep your computer running smoothly.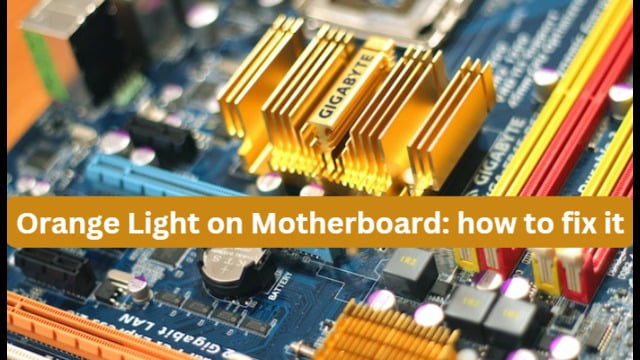 When you first power up a new computer, one of the first things that comes alive is an orange light on the motherboard. It's usually located near the center of the board or near a fan or other components. This orange light is typically called a "power light" since it indicates that electricity is flowing through the device. However, if this power light begins to blink or flicker, it can indicate a potential issue with your computer.
In order to understand why this orange power light may be flickering or blinking, let's take a look at how computers work. By understanding these concepts, we can better diagnose any potential issues related to this mysterious orange light. So let's dive in and get started!
Definition Of Motherboard Lights
A motherboard is the main circuit board for a computer, and it generally houses all of the components that make up a computer system. A motherboard also often has indicator lights; these are small LED lights built into the board itself that can indicate when something is wrong with the computer or tell you what's happening with it.
The orange light on a motherboard is typically an indication that either something is wrong or needs to be addressed. It may mean something as simple as a loose connection, or it could be something more serious like a malfunctioning component.
When troubleshooting your computer, you should always start by checking the LED indicator lights on your motherboard. If one of them is orange, then this can give you an idea of where to start looking for the problem.
Place of orange light on motherboard
For example, if the orange light is lit up on the USB port, then this could mean there's an issue connecting your device to your computer. Similarly, if it's lit up near a specific chip or processor on your board, then this could point to an issue with that particular part of your system.
It's important to pay attention to any orange light indicators on your motherboard as they can help you identify problems quickly and easily without having to spend too much time troubleshooting. Knowing what each light means will help you understand which areas need more attention from you in order to get your system back up and running smoothly again.
Types Of Motherboard Lights
Moving on from the definition of motherboard lights, this section will discuss the types of motherboard lights that are commonly found. An orange light is one type of motherboard light, and it generally indicates that there is a problem with the power supply or something else related to power. This could include a faulty cable, an overloaded circuit, or an insufficient power supply. If this light appears, it is important to take steps to troubleshoot and fix the issue as soon as possible.
Another common type of motherboard light is a blue light. A blue light usually indicates that the system is booting up correctly and that all components are functioning properly. It may also indicate that the system has detected something new being plugged in or connected to it. If this light appears when first turning on the computer, it usually means that everything is working correctly.
Lastly, there are red lights which typically indicate a major problem with the system such as a hardware failure or some kind of critical error. When this type of light appears, it is important to check for any error messages and take steps to diagnose and resolve any issues as quickly as possible before further damage is done. It may be helpful to consult with a professional who can help identify what might be causing the issue and how best to fix it.
In short, understanding different types of motherboard lights can be extremely useful for diagnosing problems quickly and minimizing potential damage. Knowing how each color typically corresponds with certain issues can help users take swift action when necessary in order to keep their systems running smoothly.
Meaning Of Orange Light On Motherboard
An orange light on a motherboard can indicate a variety of things. It is important to understand what the orange light is indicating before trying to troubleshoot any possible issues. The most common cause of an orange light on the motherboard is due to an issue with the power supply. This could mean that either the power supply needs replacing or there is a short in the power connections. Additionally, it could be caused by an issue with the RAM or other hardware components connected to the motherboard.
In some cases, an orange light on a motherboard can also indicate that there is an issue with the BIOS settings. This could mean that some settings have been incorrectly configured, which may need to be adjusted in order for the system to function properly. It's important to note that this type of problem requires more technical knowledge and should only be attempted by someone who has experience working with computers and electronics.
If none of these solutions resolves the orange light on the motherboard, it's recommended that you contact a computer technician as soon as possible. They will be able to diagnose and repair any issues with your system and get your machine running again in no time at all. With their help, you'll be able to quickly identify and solve any issues you might have with your computer's hardware or software components. Therefore, it's best to consult with a professional if you are unable to resolve the issue yourself.
Troubleshooting The Issue
Now that the meaning of an orange light on a motherboard has been established, it's time to look at troubleshooting the issue. The first step is to determine what type of orange light is being displayed. If it is a steady light, then the issue could be related to power or memory. If it is a blinking light, then there may be a BIOS error or an issue with the CPU fan.
The next step in troubleshooting this issue is to check all of the connections and cables associated with the motherboard. Ensure that all of the power cables are securely connected and that there are no loose wires leading from devices connected to ports on the board. Additionally, make sure that any RAM modules are firmly in place and none of them have become loose over time due to vibration or other environmental factors.
Once all of these steps have been completed, most issues should be resolved. However, if after thorough inspection nothing appears out of place, it could be necessary to replace components such as memory sticks or the power supply itself in order for the computer to function properly again. Taking these steps should help pinpoint what is causing an orange light on a motherboard and resolve any underlying problems quickly and easily.
Possible Causes For Orange Light On Motherboard
The orange light on a motherboard can be caused by several factors. The most common cause is a hardware issue, such as a faulty component or an overheating problem. It could also be caused by a software issue, such as an incorrect BIOS configuration or corrupted drivers. Lastly, it could be caused by a connection issue, such as loose cables or malfunctioning connections.
Hardware issues are usually the most common cause of the orange light on motherboards. This could mean that one of the components on the board has failed, or it could be due to overheating. If the hardware is at fault, it's best to consult with a professional technician who can diagnose and repair the problem. They may also suggest replacing any faulty components to prevent further issues from occurring down the line.
Software issues can also cause an orange light on motherboards. This could mean that there is something wrong with your BIOS settings or that you have corrupted drivers installed in your system. To fix this, you should make sure all of your drivers are up-to-date and then reset your BIOS configuration to default settings if necessary. If this doesn't work, you may need to reinstall Windows from scratch in order to get everything back in working order.
Lastly, connection issues can lead to an orange light on motherboards as well. If there are any loose cables or other malfunctions with any of your connections, then this could be causing the issue. Make sure all of these connections are secure and functioning correctly before trying anything else; otherwise, you might end up damaging your motherboard further and requiring more extensive repairs down the line. Taking care when handling delicate components will help ensure that everything works properly for years to come.
Diagnosing The Problem
Diagnosing the problem can be a complex process. It's important to start by doing a visual inspection of any cables and wires that are connected to the motherboard, as well as any other components that may be causing the light to come on. If all of these connections appear to be secure and in place, then it's time to move onto the next step in diagnosing the issue.
The next step is to consult your motherboard's manual or website for troubleshooting tips. This should include what type of orange light is being emitted, how many lights are flashing, or whether it is constantly lit up. Knowing this information can help identify what type of error message is being displayed and point you in the right direction for resolving the issue. Additionally, if you have access to a diagnostic tool such as PC Doctor or similar software, this can help you quickly diagnose any hardware issues that may be causing the orange light on your motherboard.
If none of these steps provide an answer, then it's time to contact tech support from either your motherboard manufacturer or from a computer repair specialist who can help walk you through the necessary steps for resolving this issue. They will likely need additional information such as model numbers and serial numbers so they can provide more tailored support. With their assistance, you'll hopefully be able to identify and fix whatever is causing your orange light on your motherboard.
Testing Connections And Components
Now that the problem has been identified, it's time to test connections and components. The orange light on the motherboard could be caused by a faulty connection or a malfunctioning component. It is important to check both before making any repairs.
Inspect all visible wires and connections for damage. Look for any fraying or loose connections. If any of the wires appear damaged, replace them with new ones. Also, ensure that all of the plugs are securely attached to their ports.
Next, test each component individually. This can be done by swapping out the suspected parts with known working parts from other electronic devices. If a part does not work in another device, it is likely defective and needs replacing.
It may also be necessary to check if there are any software issues causing the orange light on the motherboard. Update all drivers and firmware, as well as check if there have been any recent changes made to your system settings that could have caused this issue. If nothing else works, contact a professional repair service for further assistance.
Replacing Faults
When a motherboard has an orange light, it's usually because there is a fault somewhere. It could be something as simple as a damaged socket or connector, or it could be something more complicated such as a blown component. Replacing the faulty part can often fix the issue and get the motherboard working again.
If the problem is a damaged socket or connector, then replacing it should be relatively straightforward. It may just require finding and unscrewing the correct screws, removing the faulty part, and then replacing it with a new one. If it is more complicated, though, such as a blown component, then it might require soldering skills to replace it properly.
In any case, if you are unsure about what to do or how to do it safely, then it is best to consult with someone who has experience in repairing motherboards. They will be able to advise on the best way to go about replacing any faults that are present.
Best Practices For Prevention
After identifying and replacing faults, it's important to take preventative measures in order to avoid future issues. This means understanding the basic principles behind PC maintenance and repair. To start, all components should be clean and dust-free. Dust can clog up fans, block air flow and cause overheating. Regularly cleaning out your computer with a compressed air duster is key to keeping it running smoothly.
Next, you should make sure wiring is organized and secure. Loose connections can lead to shorts or other problems that could harm your system's performance. It's also a good idea to check for frayed cables and replace them if necessary. Additionally, you should keep an eye on the temperature of the system components and use cooling systems like fans or liquid cooling as needed.
Finally, be mindful of any strange colors or lights coming from the motherboard. A yellow light indicates that there's an issue with one of the components connected to it, while an orange light typically means there's a problem with the power supply or other electrical issue. Make sure these are addressed quickly so they don't cause further damage down the line.
Other Troubleshooting Tips
If the orange light on the motherboard persists, there are a few other troubleshooting tips to consider. First, make sure all power cables are securely connected to the motherboard. Check both ends of each cable for any loose connections or damage. If everything is securely connected, then try resetting the BIOS. To do this, turn off the system and unplug all peripheral devices such as keyboards and mice before removing the CMOS battery. Keep it out for at least five minutes before reinserting it and powering up the system again.
Another solution could be to check if the fans in your PC are running correctly. If any fan is not spinning correctly or making strange noises, it may be time to replace it. Make sure that all air vents are clear of dust and debris as well, since this can also cause overheating issues which can lead to an orange light on your motherboard as well.
Lastly, you may want to update your BIOS firmware if none of these solutions have fixed the issue. This may require technical knowledge so make sure you read up on how to do this first before attempting it yourself. With any luck, one of these tips will resolve your issue with an orange light on your motherboard.
Frequently Asked Questions
What Is The Cost Of Replacing A Faulty Component On The Motherboard?
The cost of replacing a faulty component on the motherboard is an important question for those who are looking to repair or upgrade their device. It can be difficult to determine the price when the exact specifications of the part needed are unknown. Many consumers may be unsure how to go about finding out what the cost would be, or if it's even worth it in the first place.
One way to find out what the cost of replacing a faulty component would be is by contacting your local computer repair shop or manufacturer. They could provide you with information on what parts would be necessary, and give you an estimate of how much it would cost to replace them. Another option is to search online for compatible components and compare prices between different stores, so you can find out which one offers the most competitive rates.
When considering whether replacing a faulty component is worth it, there are several factors that should be taken into account including time, money, and convenience. If you have access to technical expertise and tools then it might make sense to try and repair the part yourself. However, if you don't have experience in this area then it's best to leave it in the hands of professionals who can get the job done quickly and safely. Taking these considerations into account can help you decide if investing in a replacement is worth it or not.
In order to ensure that any future repairs or upgrades are successful, researching costs ahead of time and preparing accordingly is essential. Knowing what kind of costs will apply before starting a project can help keep any surprises at bay while ensuring that all parts are working correctly for maximum performance.
Possible Light indications
When it comes to diagnosing a problem with a motherboard, there are often different colored lights that can indicate various issues. While an orange light on the motherboard usually indicates a faulty component, are there any other colors that could suggest something else is wrong?
This question is important for those trying to diagnose their own issues or understand what needs to be done in case of a repair.
Different kinds of Light
When looking at the motherboard, it is important to note any unusual colors and determine what they might mean. Generally speaking, a red light on motherboard indicates overheating and blue lights typically point towards a power issue. Green lights can also indicate successful booting up of the motherboard while yellow lights refer to potential memory issues.
Each of these colors can be further broken down into more specific problems depending on whether they are flashing or steady as well as their exact location on the board.
Consult an Expert
It is always best practice when dealing with any technical issue to consult with an expert or read through documentation in order to get the most accurate information regarding repairs or replacements that may be necessary.
In some cases, having a basic understanding of the different colored lights on the motherboard can help narrow down possible causes before consulting with someone else.
Ultimately, having this knowledge can help save time and money in diagnosing any potential issues with one's system.
In order to ensure proper maintenance and performance of one's computer system, understanding all aspects of its components is essential. Knowing what each color light on one's motherboard means can provide insight into potential issues and even help guide decisions regarding repair costs if needed.
Taking the time to research and learn about these matters beforehand can potentially save lots of hassle down the line if something goes wrong with one's system.
Tools and Software Programs To Diagnose Motherboard Problems
When looking at the motherboard of a computer, it is important to diagnose any underlying problems that may be present. Often, a light on the motherboard can indicate there is an issue, and this light may be orange in color.
However, there are other tools and software programs that can be used to diagnose motherboard issues as well.
There are many different types of diagnostic tools available for use when diagnosing a motherboard problem. For example, one type of tool is called a POST card, which stands for Power On Self Test. This type of tool helps to detect errors in the system's hardware or RAM memory modules.
Additionally, programs such as CPU-Z and Speccy can be used to check temperatures and voltages on the motherboard. These programs can also provide information about the type of processor installed on the board and its related components.
AIDA64
Finally, if these types of diagnostic tools do not reveal any issues with the motherboard, then it may be necessary to use more advanced diagnostic software programs such as AIDA64 or HWMonitor PRO.
These types of programs allow users to view various details about their computer's hardware components such as fan speeds and power consumption levels.
By using these advanced software packages, users can identify any potential issues with their system and take steps to correct them before they become major problems.
In short, when trying to diagnose a problem with the motherboard of a computer it is important to consider all options available including both hardware diagnostic tools and software programs. Using these types of resources can help identify any potential issues quickly so that they can be addressed before further damage occurs.
Is It Possible To Fix An Orange Light Issue On The Motherboard Without Professional Assistance?
When it comes to any type of technical issue, a common question is whether or not it can be fixed without professional assistance. This is especially true of issues related to the motherboard, which are often complex and require specific knowledge. So, is it possible to fix an orange light issue on the motherboard without professional assistance?
The answer to this question largely depends on the individual's level of technical expertise. If someone has previous experience working with motherboards and components, they may be able to diagnose and troubleshoot the problem. However, if they feel uncomfortable trying to fix such a complicated issue on their own, then it would be wise to reach out for help from a computer technician or specialist.
It's also important to note that certain orange lights indicate different problems with the motherboard. For example, some may mean that the system needs more cooling, while others may indicate a faulty component or connection that needs attention. Without proper diagnosis of these issues, attempting to fix an orange light issue could do more harm than good.
Therefore, due to the complexity and potential risks associated with motherboard repairs, seeking professional advice is highly recommended when dealing with orange lights on the motherboard. With their help and expertise, users can ensure that their system is properly diagnosed and repaired in no time at all.
What Are The Potential Risks Of Attempting To Troubleshoot The Motherboard On Your Own?
Troubleshooting a motherboard on your own can be a daunting task. While it may seem like an easy fix, attempting to repair the issue without professional assistance can come with some potential risks. It is important to understand what these risks are before you decide whether or not to take on the challenge.
One of the main risks associated with troubleshooting a motherboard yourself is that you could cause additional damage to the device. If you don't have experience in this type of work, it's possible to make mistakes that could worsen the orange light issue or cause other problems such as short circuits or burnt out components. Even if you take all necessary precautions, things can still go wrong and cost you more money in repairs than if you had taken it to a technician in the first place.
Another risk of attempting DIY motherboard repairs is that any warranties will likely be voided by doing so. Many manufacturers don't allow end users to modify their products and they won't be responsible for any damage caused by user maintenance. If something goes wrong while trying to troubleshoot the device, then you may find yourself without coverage and have to pay extra for repairs out of pocket.
It is important to consider all possible outcomes before deciding whether or not to tackle this project on your own. While there are some risks associated with dealing with an orange light issue on your own, there are also ways for people with little technical knowledge and experience to do so safely and effectively – but only if they know what they're doing! Be sure to research thoroughly before starting any repair work, as this will help minimize potential issues along the way.
Conclusion
In conclusion, the orange light on a motherboard can be a sign of a faulty component. Depending on the model and type of motherboard you have, the cost to replace it can vary. Other colors of lights on the motherboard can also indicate different problems that could be occurring. There are tools and software programs available that can help diagnose motherboard issues, but it is not always necessary to hire professional assistance when fixing an orange light issue. You should however be aware of the potential risks associated with attempting to troubleshoot the motherboard on your own. Taking all these factors into consideration will help ensure you make the best decision for your needs.
It is important to remember that while this article has provided some basic information about orange lights on motherboards, further investigation may be needed before taking any action. If you feel unsure about what steps to take next, then consulting a professional or doing additional research may be beneficial. Ultimately, only you can decide what approach is right for you and your computer system's needs.
No matter which route you decide to go down in addressing the orange light issue on your motherboard, it is important to stay informed and cautious throughout this process so as not to cause any further damage or incur any unnecessary costs. With patience and attention to detail, hopefully you will soon have your computer running as normal again.