Are you looking for a way to remove thermal paste from your CPU? If so, then you've come to the right place! Thermal paste is essential for keeping your computer components cool and functioning properly. But when it comes time to upgrade or replace your CPU, you'll need to know how to safely remove the old thermal paste. In this article, we'll show you how to quickly and easily remove thermal paste from your CPU without damaging the delicate electronics inside.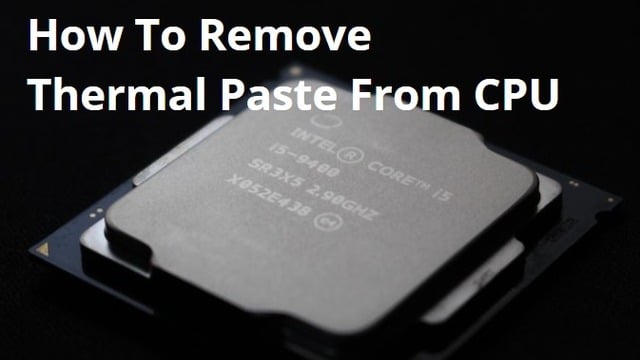 Have you ever noticed that there's a sticky residue on the bottom of a laptop or desktop CPU? That residue is a thermal paste, a special material used to help keep computer components cool and functioning properly during high workloads. Thermal paste can be tricky to remove if you don't have the right tools and techniques. But don't worry – with a few simple steps, you can easily get rid of all that old thermal paste without any damage to your hardware.
So if you want to know how to safely remove the thermal paste from your CPU, read on! We'll walk you through each step in detail so that by the end of this article, you'll be an expert at removing any residual thermal paste from your computer components. With our helpful tips and tricks, removing even stubborn bits of thermal paste will become effortless!
What Is Thermal Paste?
Thermal paste is a compound used to fill the air gaps between a CPU and its heat sink. It helps to improve the thermal conductivity of the CPU and heat sink, ensuring that heat is transferred more efficiently. Thermal paste can come in various forms, such as silicone-based pastes or metallic compounds. It also comes in different thicknesses, depending on the application's needs.
Thermal paste is an important component of any PC cooling system and it should be applied correctly for optimal performance. When the thermal paste has been applied correctly, it will help keep the temperature of the CPU within safe operating ranges. However, if too much or too little thermal paste has been applied, it can cause overheating or undercooling which can damage components or reduce their lifespan.
When it's time to replace your CPU or clean out your system, you may need to remove the existing thermal paste from the CPU and heat sink. This process should be done carefully to avoid damaging components, so take your time and use caution when doing this task.
Tools Needed For Removal
Now that you understand the basics of thermal paste and its purpose, it's time to look at how to remove it. Thermal paste removal may be necessary if you are replacing your CPU or if the paste has dried up and needs to be replaced. It is important to use the right tools when removing the thermal paste, as incorrect methods can damage your CPU.
The most important tool for thermal paste removal is a lint-free cloth. This will help you wipe away any remaining residue on the surface of your CPU without leaving behind any scratches or abrasions. Additionally, some rubbing alcohol can also be used to help break down the remaining paste and make it easier to clean up. A small brush or toothbrush can also come in handy for getting into smaller areas of the CPU where cloth alone won't reach.
Finally, once all of the old thermal paste has been removed, it's important to clean off any residue with a soft cloth dampened with warm water. Make sure to dry your CPU thoroughly before applying the new thermal paste; this will ensure that your new application is as effective as possible. With these simple steps and tools, you should have no problem safely removing your old thermal paste and properly preparing your CPU for a new application.
Preparing The Cpu And Heatsink
Before removing thermal paste from the CPU, it's important to take certain steps to prepare the CPU and heatsink. First, unplug the power supply from your computer. Then, remove any components that may be blocking access to the heatsink or CPU. This includes screws that are holding down the heatsink as well as any plastic covers or cables that are obstructing access.
Once you've removed all of these components, use a damp cloth to wipe away any dust that has accumulated on the CPU and heatsink. Be sure to clean both of them thoroughly to maximize their efficiency when reassembling them later. If you need to, use a vacuum cleaner with a brush attachment for deeper cleaning.
After everything is cleaned and dry, turn off your computer again and unscrew the heatsink from your motherboard. Carefully lift it away and set it aside until you're ready to put it back together again. Now you can begin removing old thermal paste from your CPU and heatsink using a cotton swab or small brush. Use rubbing alcohol and gently scrub away any residue until they're both completely clean. You can also use tweezers if necessary for more difficult areas around delicate components on your processor.
Once finished, dry off both parts before applying the new thermal paste so that they're prepared for reassembly.
Removing The Old Thermal Paste
The first step in removing thermal paste from a CPU is to ensure that all the components are properly powered off and unplugged. This includes the computer, monitor, and any other connected peripherals. Once everything is shut down and disconnected, you can then begin the process of removing the old thermal paste.
To start, use a damp cloth to wipe away any dust and debris from the surface of the CPU. Make sure to be gentle as excessive force can cause damage to the delicate components. After wiping away any dirt or dust, you can begin applying a cleaning solution specifically designed for computer parts to help dissolve the old thermal paste. Apply a liberal amount of cleaner to a clean cloth and gently rub it over the surface of the CPU until all residual thermal paste has been removed.
When finished, dry off any remaining moisture with a lint-free cloth and allow the CPU to air dry before reapplying the new thermal paste. Taking care not to damage any delicate components when performing this task will help ensure optimal performance from your computer's processor in the future.
Cleaning Excess Paste From Cpu And Heatsink
Once the thermal paste has been applied to the CPU and heatsink, any excess paste should be removed. To do this, a few basic tools are required: cotton swabs or pads, rubbing alcohol, and paper towels.
First, use a dry cotton swab or pad to remove as much of the excess paste as possible. Gently rub the swab over the area until it is mostly clean. For more stubborn bits of paste, dampen a new swab with rubbing alcohol and repeat the process. Be careful not to apply too much pressure while scrubbing as this can damage delicate components on your CPU or heatsink.
Once most of the paste is gone, wipe down both surfaces with a dry paper towel to remove any remaining residue and alcohol. This may take some time but all traces of thermal paste must be cleaned away for optimal cooling performance. After cleaning, inspect both surfaces for any signs of damage such as scratches or dents that could interfere with heat transfer.
If there is no visible damage then you're done and ready to reassemble your system! Make sure to follow all instructions from your motherboard's manual when reinstalling your CPU and heatsink so they are properly seated in place.
Applying New Thermal Paste
Once the old thermal paste has been removed, it's time to apply new thermal paste. Before starting, make sure that all of the components are clean and free from dust and debris. It's important to use a good quality thermal paste for this process, as cheap or substandard brands can cause damage to the processor or even void its warranty.
When applying new thermal paste, it is important to use a thin layer so that the heat will be able to transfer easily and efficiently between the processor and heat sink. Generally speaking, many people recommend using a pea-sized amount of thermal paste, but it may take trial and error to find out what works best with your system.
Using an old credit card is a great method for spreading thermal paste evenly over the processor without putting too much on. Make sure that you spread it in one direction only; if you go back and forth, you may end up with air bubbles which will reduce its effectiveness. Once you have applied the thermal paste, reattach the cooling fan or heatsink firmly into place and you should be good to go!
Installing The Heatsink
Now that the thermal paste has been applied, it is time to install the heatsink. Before beginning, make sure all components are securely in their places, and then line up the two components of the heatsink. It can be helpful to use a screwdriver or similar tool to help guide them into place. Once they have been connected, secure them with screws or clips if necessary. Make sure not to over-tighten them, as this can cause damage to components.
When installing a fan onto the heatsink, make sure to connect it properly so that it runs in the correct direction and provides adequate cooling for the CPU. If you have a fan with a power source connector, ensure that it is plugged in correctly and securely before powering on your computer.
After connecting everything correctly and powering on your computer, check that all connections are tight and there are no loose wires or parts. If everything looks good and your PC is running correctly, you should be ready to go!
Reinstalling The Cpu And Components
After the thermal paste is successfully removed from the CPU, it's time to reinstall the CPU and components. Begin by locating the correct CPU socket on the motherboard and make sure it fits securely into the socket. Be sure to check that it is lined up properly with the pins in the socket. If not, gently maneuver it until it slides in properly.
Next, attach any additional cooling fans that you may have for your processor. This is especially important if your computer will be used for gaming or heavy-duty tasks where your processor will need extra cooling. Make sure all cables are plugged in securely and placed out of the way of other components.
Finally, reassemble all other parts of your computer, including adding any RAM or hard drives that you may have installed previously. Check all connections are secure and double-check that nothing was forgotten before powering up your machine.
Testing For Proper Cooling
Now that the CPU and components have been reinstalled, it's time to test for proper cooling. Before booting up the computer, make sure all fans are running. If any are not working, replace them. Once the fans are running properly, it's important to remove any excess thermal paste from the CPU and heatsink. This can be done by using a lint-free cloth dampened with isopropyl alcohol or rubbing alcohol. Gently wipe away the paste until the surface of the CPU and heatsink are clean.
When dealing with thermal paste, it's important not to touch it with your bare hands as this can damage both surfaces and reduce cooling performance. To avoid this, use a paper towel or other non-abrasive material to pick up any excess paste. Additionally, use a plastic scraper or putty knife when removing hardened paste from surfaces. Be careful not to scratch or damage either surface while doing so.
After cleaning off all of the thermal paste, check that there is no blockage in airflow around the processor and fan area. Make sure there are no bent pins on either part of the socket and inspect for any other signs of damage caused by heat or mishandling during the g installation process. If everything looks good, you're ready to power up your computer!
Troubleshooting Tips: how to remove e thermal paste froCPUpu
When removing thermal paste from a CPU, it is important to take the necessary precautions. First, make sure the area where you are working is well-ventilated and that you are wearing gloves and safety glasses. If possible, use an anti-static mat or wrist strap to avoid any potential static damage.
Next, carefully use a cotton swab or lint-free cloth soaked in rubbing alcohol to remove as much of the thermal paste as possible. Do not scrub too hard and be sure to lift away any remaining residue with the swab or cloth. You may also use acetone for more stubborn areas but take caution with this chemical since it can cause permanent damage to the surface of your CPU if used improperly.
Once you have finished cleaning off the thermal paste, inspect the area for any remaining residue. If there are still some traces left behind, then repeat the process until all of it is gone. After that, you should be able to proceed with installing a new thermal paste onto your CPU safely and securely.
Below you can find a video on how to remove e thermal paste from Cpu:
Frequently Asked Questions
What Are The Risks Of Not Removing Thermal Paste?
If you are wondering what the risks of not removing thermal paste from your CPU are, it is important to understand how thermal paste works and why it needs to be removed in the first place. Thermal paste is used to fill the space between a computer processor and its heat sink, creating a tight seal that facilitates the better heat dissipation. If left on the CPU, the thermal paste will start to degrade over time, reducing its effectiveness and leading to higher temperatures. This can cause serious damage to internal components, as well as reduce the overall lifespan of your system.
Unremoved thermal paste can also cause dust particles and other contaminants to build up, resulting in blockages that prevent proper airflow. This can lead to an even greater increase in temperature, which can further accelerate component wear and tear. Additionally, leaving the old thermal paste on your CPU can also result in poor contact between the processor and the heat sink. This will reduce their ability to dissipate heat efficiently, leading to potential overheating or even complete system failure due to excessive temperatures.
Finally, it is worth mentioning that improper removal of thermal paste can also have consequences for your system's performance. If too much is removed or if it is damaged while being taken off, then this could leave gaps where air cannot circulate properly around your processor. This could lead to poor cooling performance as well as additional strain on internal components due to high temperatures caused by inadequate cooling solutions. All these issues should be taken into account when considering whether or not you should remove the thermal paste from your CPU.
Are There Any Alternatives To Thermal Paste?
When it comes to cooling a CPU, thermal paste is often necessary. It helps ensure that the heat generated by the processor is dissipated properly. However, many people wonder if there are any alternatives to using thermal paste.
One alternative is liquid metal thermal paste. This type of paste is more effective than traditional thermal pastes when it comes to conducting heat away from the processor. The downside of liquid metal thermal paste is that it can be difficult to apply and can damage components if not used correctly. Additionally, some processors may not be compatible with liquid metal pastes, so it's important to check with the manufacturer before attempting to use this type of paste.
Another option for cooling a CPU is to use a fan or heatsink. Fans and heatsinks can provide better airflow and help keep the processor cooler than thermal pastes alone.
While they may cost more upfront than thermal pastes, they also require less maintenance and can last much longer than most types of thermal pastes. Additionally, fans and heatsinks don't need to be replaced as often as thermal pastes do, meaning they are more cost-effective in the long run.
In short, while traditional thermal paste remains one of the most popular methods for cooling CPUs, there are other options available that may prove more beneficial depending on your needs and budget. If you're looking for an alternative solution for keeping your CPU cool, then liquid metals or fans/heatsinks could be worth considering as alternatives to traditional thermal pastes.
How Often Should Thermal Paste Be Replaced?
When it comes to computers and their components, thermal paste is an essential component. It is responsible for helping to properly conduct heat away from the processor and other components, ensuring that they don't overheat due to heavy use or lack of air circulation. However, this paste can wear out or become contaminated over time and needs to be replaced to keep your computer running smoothly. So how often should thermal paste be replaced?
The answer depends on a few factors. If you use your computer heavily, such as for gaming or intensive tasks like video editing, then it's recommended that you replace the thermal paste every 6-12 months. This ensures that your system remains cool even under high temperatures and prevents any potential damage caused by excessive heat. On the other hand, if you only use your computer occasionally for web browsing or word processing, then replacing the thermal paste once every two to three years should suffice.
Quality Product
It's important to note that when replacing the thermal paste, it's best to do so with a high-quality product specifically designed for computers and other electronic devices. Cheap generic versions may not be able to provide the same level of performance and protection as more expensive brands. Additionally, it's also important to take care when applying the new thermal paste as too much can lead to overheating while too little can cause poor heat transfer.
In addition to replacing thermal paste regularly, making sure your PC is kept clean and free from dust buildup is another good way of helping prevent overheating issues caused by clogged vents or fans. Keeping an eye on temperatures using software like Core Temp is also a great way of monitoring how well your system is performing at any given time. All these measures can help keep your PC running at its peak performance for years to come.
What Happens If The Thermal Paste Is Applied Unevenly?
Applying the thermal paste to a CPU is an important part of the computer-building process, but it's something that needs to be done correctly. If the paste is applied unevenly, the consequences can be serious. This article will explore what happens if thermal paste is not applied evenly and what can be done to fix the issue.
When the thermal paste is applied unevenly, it can lead to air pockets forming between the CPU and heatsink. This can prevent heat from being transferred from one component to another as efficiently as possible. As a result, the temperature of the CPU can increase significantly, which could cause it to overheat and potentially damage other components in your computer.
To avoid this potential issue, it's important to ensure that you apply the thermal paste evenly across both components. You'll also want to make sure that you use enough paste so that there isn't any air gap between them when they're put together. Additionally, it may be beneficial to take extra care when applying the paste so that you don't end up with too much or too little on either component.
If you've already applied thermal paste unevenly and are noticing temperature issues within your system, then you may need to remove and reapply it properly for your system to run optimally again. To do this, use a lint-free cloth or cotton swab dipped in rubbing alcohol or a special cleaning solution designed for removing thermal paste from CPUs and heatsinks. Once everything has been cleaned off, you should be able to apply a new layer of thermal paste properly without any issues.
What Is The Best Way To Store Thermal Paste?
Storing thermal paste correctly is essential for any computer maintenance project.
It ensures that the paste will remain in good condition and be ready to apply when needed. The best way to store thermal paste depends on the type of paste being used, as well as the environment it's stored in.
Thermal pastes can come either pre-applied on a heatsink or as a separate tube or jar of paste.
If you have a tube or jar of paste, then the best way to store it is in a cool, dry place away from direct sunlight. Make sure to keep the lid tightly closed to prevent any dust or other particles from getting inside and contaminating the thermal paste.
If you're using a pre-applied paste, then make sure that it is properly covered with plastic wrap or another protective cover so that it doesn't dry out over time.
Work Clean
When applying thermal paste, always use a clean surface and clean tools such as cotton swabs and brushes. Never reuse old tools for applying new thermal paste because this could contaminate the new paste with old residue from the previous application. Additionally, never mix different types of pastes because this could affect their performance and lead to overheating issues with your CPU.
It's important to remember that proper storage and application of thermal paste are key components in making sure your computer runs smoothly without any overheating issues. By following these guidelines, you'll be able to enjoy optimal performance from your CPU while also ensuring your computer's longevity by protecting its components from damage caused by excessive heat buildup due to improper storage or application of thermal paste.
Conclusion on How To Remove Thermal Paste From Cpu
In conclusion, it is important to understand the risks of not removing thermal paste from your CPU. Not regularly replacing the thermal paste can cause overheating and damage to both your CPU and other components. But, by taking the time to properly store and apply thermal paste, you can ensure that your PC runs at its optimal temperature for maximum performance.
When it comes to removing thermal paste from CPUs, there are a few methods you can use. If done correctly, these methods should be able to remove all traces of the thermal paste. Even without damaging any components in your system. It's also important to remember that it is best to replace the thermal paste every two years or so. To make sure that if you do reapply it, you do so evenly across the surface of the processor.
Finally, when storing thermal paste, always make sure that it is stored in a dry and cool environment. Keep it away from direct sunlight or heat sources. This will help prolong its shelf life and keep your PC running optimally for longer periods. So next time you're thinking about replacing or removing thermal paste from your CPU, make sure you know what steps need to be taken first to ensure maximum performance and longevity of your computer components! Thank you for reading my guide on how to remove thermal paste from your gpu.