CPU coolers are essential components for computer systems. They are designed to dissipate heat from the processor, keeping it at safe operating temperatures. So yes, you do need a CPU cooler! CPU cooling is essential for keeping your computer running at peak performance. If you don't have a good CPU cooler, your processor might overheat and shut down unexpectedly.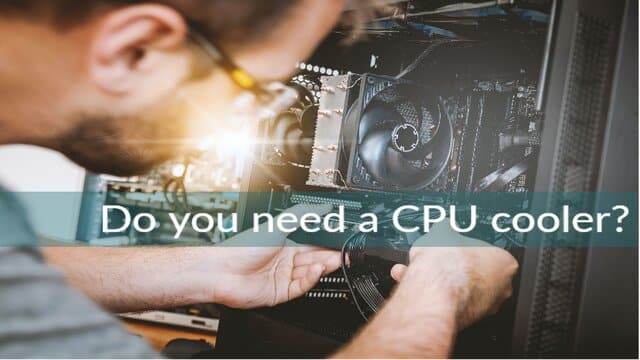 If you don't have one, you might want to consider buying one.
The CPU (central processing unit) is the heart of every computer system. It controls the entire operation of the machine. To function properly, it has to run at optimal temperature levels. If it gets too hot, it can slow down or even shut off completely.
You should always check the temperature of your CPU before using it. This way, you'll know whether or not you need an additional cooling solution to keep your hardware cooler.
What happens if you run a CPU without a cooler
Simple: you could damage your CPU or PC. The reason why this is so dangerous is that the CPU generates a lot of heat when working. CPU temperatures could potentially become very high. If you don't keep that heat under control, it will fry your CPU and cause permanent damage.
Why do you need a CPU cooler?
There's no denying that CPUs generate a lot of heat. Even though they're getting smaller and thinner, their power consumption continues to increase. As a result, more heat is generated by them.
If the heat isn't removed efficiently, it can destroy the CPU. In extreme cases, it can also lead to a complete shutdown of your computer.
How does a CPU cooler work?
CPU coolers use fans to circulate air around the CPU. This allows the heat to be transferred away from the CPU. As a result, the CPU runs cooler and faster.
CPU heat sinks come in different sizes and shapes. Some are large enough to fit multiple CPUs. Others are small enough to fit on mobile devices like tablets and smartphones.
Which type of cooling exists
There are 2 common ways of cooling: liquid and air cooling. Liquid cooling uses water as its medium. Air cooling uses air as its medium.
Liquid cooling is more efficient than air cooling because it doesn't require moving parts. However, it requires a pump and reservoir which adds bulk to the overall size of the system. Hot water will be pumped from the CPU to a cooling system, after which it will return as cold water back to the CPU.
Both types of cooling are used today. There are some advantages and disadvantages to each method which we will go over in the next few paragraphs.
Air cooling vs liquid cooling
Air cooling is less expensive to install than liquid cooling.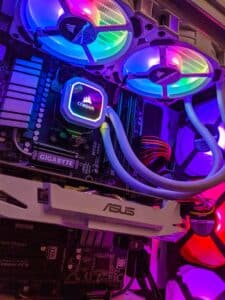 It is also easier to install. But it needs moving parts which increases the risk of failure. While liquid cooling is more expensive, it can grant you some additional features, like tiny screens or RGB color options. Also note that if you are building your new PC for the first time, even an average liquid cooling kit might be a bit harder to set up than air cooling.
With a liquid cooler, your CPU will run mostly run in cool temperatures. This is because CPU cooling happens all the time. Liquid cooling systems tend to always cool, whilst an air-based CPU cooler tends to mostly kick into gear during an increase in heat.
Sound
Liquid cooling tends to be a lot quieter than air cooling. That means you won't hear any fan noise during normal operations. On the other hand, air cooling makes a lot of noise. You'll hear it while installing and removing the CPU cooler.
Size
Air cooling is much smaller than liquid cooling. It can fit in tight spaces where liquid cooling cannot go. When going for a smaller build, it would be advisable to choose air cooling over liquid cooling.
Cost
The cost of liquid cooling is higher than air cooling. The price difference depends on what kind of cooling you want. For example, the cheapest option is usually a basic aluminum radiator with a 120mm fan. It costs about $20-$30.
On the other hand, air-cooled systems tend to have better performance at lower prices. They are often built using cheaper materials such as plastic instead of metal.
Performance
There is no clear winner here. Both methods perform well and deliver some very efficient cooling. In most cases, both methods will give good results. The main differences between them are their sound levels and sizes. If space is limited, then air cooling might be preferable.
Installation
All-in-one Liquid cooler
An all-in-one liquid CPU cooler is usually more complicated to install than a standard air cooler, but they're still fairly simple. Most liquid coolers consist of just the radiator, the two hoses cycling the coolant, and a reservoir tank. The extra steps involve first attaching the water block, a process similar to installing a CPU cooler and then attaching your radiator and fans in such a way that the excess heat can be easily expelled from the computer. As long as the coolant, heat pipes, and radiator are self-contained within the apparatus (hence its name "All-In-One"), it requires minimal supervision or maintenance after installation.
Air-Cooling
Installing an air-cooled system on the other hand is fairly easy. All you need is a case, a motherboard, a power supply unit, and a fan. The only thing you should consider when choosing a fan is whether it will fit into the space available. If there isn't enough room, you may not be able to use all of the airflows you desire.
Custom made
Installing a custom water loop, on the other hand, requires more effort and knowledge on the part of the installer. The initial setup process might take longer than expected, but the added flexibility makes it easier to customize the system and includes the option of adding additional components such as a GPU. More complex custom loops can also be used to support builds of all shapes, sizes, and types when they're implemented correctly.
How much space do CPU coolers take up?
A typical CPU cooler takes up about 1/3rd of the total surface area of a motherboard. That's quite a lot of space.
However, many other things take up room on a motherboard. For example, RAM slots, PCI-E slots, and SATA ports. All these things compete for space on the motherboard.
So how can you make sure that your CPU cooler fits in the available space?
Well, firstly, you'll need to measure the space you have available. Then, you'll need to decide what kind of cooling you want.
Will you go for a liquid or air-cooled CPU cooler?
Once you've decided on all these factors, you'll then need to find out how much space your CPU cooler will take up.
Which CPU cooler should you choose?
However, there are many other factors to consider when choosing a CPU cooler. For example, how big is your case? How powerful is your motherboard? What kind of graphics card do you plan to add?
These are just a few examples of questions that you'll need to answer before you buy a CPU cooler.
What you really should look out for are 2 things:
1) Can the cooler be mounted on the motherboard? Most coolers come with 2 sets of mounting mechanisms.
2) Make sure the new cooler is strong enough to cool off your CPU
Stock coolers
Generally speaking, high-end CPUs don't come with a stock cooler.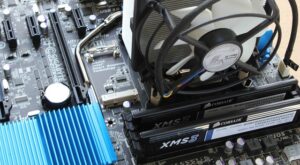 That's because it would be absurd to include a standard stock cooler, which most likely doesn't meet the expectations of the CPU itself. CPU manufacturers, like AMD or Intel, are experts at making CPUs, not the cooling parts necessarily. When you decide to get a more advanced CPU, you will most likely have to go for a more advanced cooling solution or additional cooling.
For the more basic or average CPUs, you can expect them to come with a CPU cooler. This is the reason you don't always have to get an additional or replacement cooler.
Conclusion
Do you need a CPU cooler or not has become pretty clear in this article. You need optimal cooling, more so if you decide to go for high-end hardware like the latest CPUs. Whether or not you decide to go the liquid route is up to you. We have covered some major advantages as well as disadvantages of both a liquid-cooled system as well as an air-cooled PC.
The decision is ultimately yours, but I hope that this guide helped you understand better which types there are and send you in the right direction before making your PC build
If you'd like to read more articles like this one, check out my homepage! Also, feel free to leave a comment below, I would love to hear your thoughts on this matter.