We all know that having a computer is essential in today's world. But with so many components and parts to manage, it can be difficult to keep track of what you need. One question that often arises is: do motherboards come with Wi-Fi? The answer isn't as straightforward as you might think.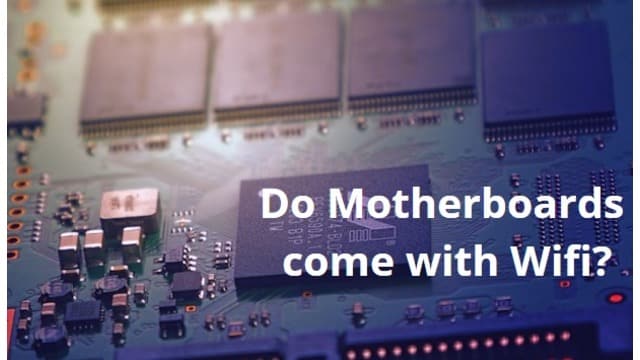 In this article, we'll dive deep into the ins and outs of motherboards and Wi-Fi technology. We'll discuss why some motherboards come pre-equipped with Wi-Fi, while others require an upgrade. We'll also talk about the various types of Wi-Fi available on the market today and how they differ from one another. Finally, we'll cover the pros and cons of having motherboard Wi-Fi included or added separately.
If you've ever asked yourself whether motherboards come with Wi-Fi, then this article is for you! It will provide a comprehensive look at everything you need to know about motherboards and their relationship to wireless technology. So sit back, relax, and let's get started!
What Is A Motherboard?
A motherboard is the main printed circuit board in a computer. It contains the core components of a system, including the CPU, memory, and various connectors for other peripherals. It's responsible for connecting all of the other components and providing them with power. Without it, your computer wouldn't be able to run.
The size and shape of motherboards vary depending on their intended use. Some are designed to fit into small cases such as laptops or tablets while others are designed to be used in larger cases such as desktop computers. Each type has its own set of features, such as extra ports or slots for additional components like graphics cards or sound cards. Additionally, some motherboards come with built-in Wi-Fi capabilities. so you can connect wirelessly to your network without needing an external adapter.
Overall, motherboards are crucial for any type of computing device and come in many shapes and sizes depending on their intended use. They provide the foundation for a functioning system by connecting all of its components and providing them with power. Some even have advanced features like built-in Wi-Fi capabilities. So you can take advantage of wireless networking without needing an external adapter.
Different Types Of Motherboards
Moving on, let's discuss different types of motherboards. They vary in size and components, so it's important to know which one is right for your machine.
The most common type of motherboard is the ATX form factor. This type of motherboard has a standard size and shape that fits into the majority of computer cases. It typically contains four slots for RAM, several PCI slots, and multiple USB ports. Some ATX motherboards also feature integrated Wi-Fi capabilities.
The ITX form factor is a smaller version of the ATX motherboard that is designed to fit into a much smaller casing. It usually has fewer features than an ATX motherboard. It still has enough ports for basic computing tasks. The mini-ITX form factor is an even smaller version of the ITX form factor. It can be used in ultra-small computer cases or embedded systems such as digital signage players or kiosk machines.
Mini-DTX and Micro-ATX
Mini-DTX and micro-ATX are two other popular form factors that are slightly larger than mini-ITX but still small enough to fit into small computer cases. These motherboards have more features than an ITX board but not as many as an ATX board. The last type of motherboard we will discuss is the FlexATX form factor which offers more flexibility in terms of case size and component placement than other types of motherboards.
No matter what kind of motherboard you need, you should always consider your budget and requirements before purchasing to ensure you get the best value for your money.
Components Of A Motherboard
Motherboards come with a variety of components that make up their main structure. These components include the processor, memory slots, expansion slots, storage connectors, power connectors, and integrated peripherals. The processor is the heart of the motherboard and is responsible for executing instructions.
It's usually soldered directly onto the motherboard in a socket or slot. Memory slots provide a place to install RAM modules so that the computer can store data and programs during operation. Expansion slots enable users to install additional components such as sound cards, graphics cards, and network adapters.
Storage connectors allow users to connect hard drives and optical drives to the motherboard for data and program storage. Power connectors provide an interface for connecting power supply cables from the power supply unit (PSU) to the motherboard. Finally, some motherboards may feature integrated peripherals such as USB ports, audio jacks, and video outputs. All these components work together to allow users to build their own custom PCs according to their individual needs.
Wi-Fi Technology Basics
Wi-Fi technology is a form of wireless communication that enables users to connect to the internet without the need for cables. It uses radio signals in a specific frequency range to send and receive data, allowing devices to communicate with each other. Wi-Fi networks can be found in most homes, offices, and public spaces like cafes and airports.
The most commonly used Wi-Fi standard is 802.11b/g/n, which offers speeds up to 54 megabits per second (Mbps). This is fast enough for streaming video or downloading large files. However, newer standards such as 802.11ac offer much faster speeds of up to 1 gigabit per second (Gbps).
Most modern motherboards come with built-in Wi-Fi capabilities, making it easy to connect to any available network using your computer's built-in wireless adapter. You may also need additional hardware if you want to upgrade your home network's speed or extend its range.
No matter what type of wireless connection you have, it's important to make sure your computer has the latest security updates installed so that your data remains safe and secure while you're online.
Advantages Of Wi-Fi On A Motherboard
Having Wi-Fi on a motherboard has several advantages. The first advantage is convenience. With the built-in Wi-Fi, users don't have to worry about buying and installing an external Wi-Fi adapter. This saves time and money and makes setup much simpler.
The second advantage is speed. Built-in Wi-Fi adapters tend to be faster than external ones due to their closer proximity to the CPU. This means that data can be transferred more quickly, allowing for faster downloads and streaming services such as Netflix or Hulu.
Finally, having built-in Wi-Fi also provides better coverage of your home network, as it does not require additional antennas or range extenders to reach every corner of your house or office space. This allows users to keep their devices connected no matter where they are in the home or office. Overall, having Wi-Fi on a motherboard offers many benefits that make it a worthwhile investment for any computer user.
Disadvantages Of Wi-Fi On A Motherboard
Wi-Fi on a motherboard can be a great convenience, but it also comes with some drawbacks. One potential downside is the additional cost associated with purchasing an adapter to enable Wi-Fi capabilities. Additionally, many motherboards don't come with built-in antennas, which further increases the cost of using Wi-Fi. Finally, the range of Wi-Fi on a motherboard may not always be as good as what you'd get from a dedicated router or access point.
Aside from the financial considerations, there's also the issue of performance. The Wi-Fi speeds provided by motherboards are often much slower than those from dedicated routers or access points. This could be an issue if you're trying to stream high-definition content or play online games that require fast connection speeds. Also, if your motherboard's Wi-Fi signal isn't strong enough, it could lead to disruptions in your network connections and slower performance overall.
Finally, some motherboards don't have the latest technology for faster wireless connections. While this may not make much difference in everyday use, it can become an issue if you're looking for more advanced features like increased signal strength or better security protocols. Without these features, your connection could be vulnerable to interference and malicious attacks.
Ultimately, having Wi-Fi capability on your motherboard can provide added convenience but at a potentially higher cost and with slower performance than dedicated routers or access points offer.
Do All Motherboards Come With Wi-Fi?
The previous section discussed the potential disadvantages of having Wi-Fi on a motherboard. Now, we'll explore the question: do all motherboards come with Wi-Fi?
The short answer is no. Not all motherboards come with built-in Wi-Fi. Some may contain an antenna for connecting to the internet, but that doesn't necessarily mean the motherboard has a built-in wireless adapter. It's important to check your motherboard's specifications to see what it comes with.
You can usually find this information on the manufacturer's website or by looking at the product page for your specific model of the motherboard. In some cases, you may need to purchase an additional Wi-Fi card or USB adapter to have access to wireless internet. This option can be more expensive than buying a separate Wi-Fi router, but it also offers more flexibility if you want to customize your system or upgrade your internet connection in the future.
It's up to you whether you want to get a motherboard with built-in Wi-Fi or buy a separate router and adapter combination. Both options will provide you with reliable access to wireless internet, so it's just a matter of personal preference and budgeting considerations.
How To Install Wi-Fi On Your Motherboard
Installing Wi-Fi on your motherboard is relatively easy to do. First, you need to make sure that your motherboard has a compatible wireless card installed. Many motherboards come with built-in wireless cards, so you won't need to purchase one separately. If your motherboard doesn't have an integrated wireless card, then you'll need to buy one and install it yourself.
Once you've ensured that your motherboard has the right hardware for Wi-Fi, the next step is to install the drivers for the card. This software will let your computer communicate with the wireless card and connect it to a network. You can typically find these drivers on the manufacturer's website or in the included instruction manual for your motherboard. Once you've downloaded and installed the drivers, restart your computer and follow any additional installation instructions provided by the manufacturer.
Once everything is set up properly, you should now be able to connect to a network using Wi-Fi. You must take some time to familiarize yourself with any security settings available for your connection and make sure that they are enabled as needed for the optimal safety and performance of your system. With all of this done, you'll enjoy faster speeds than ever before!
Troubleshooting Tips For Wi-Fi On Your Motherboard
If your motherboard has Wi-Fi, but it's not working, there are a few things you can try. First, make sure the Wi-Fi is enabled in the BIOS settings. To do this, enter the BIOS setup by pressing a certain key during startup and look for either a wireless or Wi-Fi setting. Then make sure it's set to Enabled. If it's disabled, enable it and save your changes before exiting.
Second, check that your wireless device is connected properly to your computer. If you're using a USB adapter or dongle, make sure it's plugged in securely and that any accompanying software is installed correctly. If you're using an internal card, check if it's seated correctly on the motherboard and that its antenna cable is plugged into the right port.
Finally, update your drivers and BIOS if you haven't done so recently. This will ensure that all components work together correctly for maximum performance and reliability. Check with your computer's manufacturer for details on how to download and install these updates. With these tips in mind, hopefully, you'll be able to get your Wi-Fi up and running again quickly!
Alternatives To Built-In Wi-Fi Capabilities
No motherboards come with Wi-Fi capabilities. As such, there are alternative methods of adding Wi-Fi to a computer system. These include using a USB Wi-Fi adapter, installing a PCI-E network card, or connecting via Ethernet to an existing router.
A USB Wi-Fi adapter is a device that plugs into the USB port of a computer and functions similarly to an internal network card. It provides access to the same 802.11 wireless protocols as any other network card, without having to install any additional hardware inside the computer. This is often the most affordable option, and it's also very easy to install and configure.
A PCI-E network card is similar to an internal Wi-Fi adapter in that it connects directly to the motherboard's PCI-E slot. This type of connection is much faster than USB and can provide higher speeds for streaming video or large files. However, it requires more technical knowledge and expertise to install correctly, so it's usually best left to professionals or more experienced users.
Finally, many computers are connected directly to an existing router via an Ethernet cable. This allows for better security and faster speeds than either a USB Wi-Fi adapter or PCI-E network card can provide. It does require running cables throughout your home or office, but this is often worth it if you need higher speeds or more reliable connections from multiple devices.
Frequently Asked Questions
What Is The Best Motherboard For Wi-Fi?
When it comes to choosing the best motherboard for Wi-Fi, there are many factors to consider. It's important to understand the technology behind Wi-Fi and how it works with a motherboard. This knowledge can help inform a decision on which motherboard is best for an individual's specific needs.
The most important feature to look for in a motherboard for Wi-Fi is integrated wireless capabilities. Many modern motherboards come with built-in wireless support, but some may require additional components or adapters to connect to a wireless network. Additionally, the range and speed of a wireless connection depend on the type of Wi-Fi router being used. As well as its location relative to the motherboard. It's also important to make sure that the motherboard is compatible with any existing wireless accessories, such as printers or speakers.
For anyone looking for a reliable motherboard with great Wi-Fi support, it's best to research available options and read user reviews. Popular brands such as Asus and Gigabyte are known for producing high-quality motherboards. They offer superior performance when it comes to connecting wirelessly.
It's also worth considering budget options. Such as those from ASRock and MSI. Which often provide good value while still delivering adequate performance when it comes to Wi-Fi connectivity.
Ultimately, selecting the right motherboard requires careful consideration based on personal needs and preferences. With so many excellent choices available today, there's no doubt that anyone can find one that meets their requirements while providing reliable performance in terms of Wi-Fi connectivity.
What Is The Cost Of Adding Wi-Fi To A Motherboard?
When it comes to adding Wi-Fi to a motherboard, several factors need to be taken into consideration. Cost is one of the most important factors, and it can range from a few dollars for an internal Wi-Fi card to hundreds of dollars for a higher-end model with more features and capabilities. There are also other components involved in adding Wi-Fi to a motherboard, including an antenna, router, and cabling.
The cost of adding Wi-Fi to a motherboard will depend on the type of card being used and its features. Internal cards tend to be cheaper than external options as they don't require additional components like an antenna or router. However, external cards may offer better performance and greater range. Additionally, if the card is designed for gaming or streaming media, it will typically cost more than a basic model.
In terms of installation costs, this may vary. Depending on the type of card being used and whether any additional components are required. Generally speaking, installing an internal card should be relatively straightforward and won't require much additional work beyond plugging it into the right slot on the motherboard.
For external cards, however, setting up the router or antenna may take some time. It could involve additional costs if professional help is needed.
When looking at adding Wi-Fi to a motherboard then, it's important to factor in all these different costs so that an informed decision can be made about which option is best suited for the user's needs. With so many different types of cards available at various price points, there's sure to be something that fits within anyone's budget.
Are Motherboards With Wi-Fi More Expensive?
When it comes to motherboards and Wi-Fi, an important consideration is whether or not they come with the capability pre-installed. Another factor to consider is cost: are motherboards with Wi-Fi more expensive? The answer depends on several factors, such as the type of motherboard in question and its other features.
For starters, some motherboards do come with built-in Wi-Fi capabilities. Although these tend to be more expensive than those without them. This is because having a Wi-Fi card pre-installed requires additional hardware components and software. Additionally, the cost of a motherboard with built-in Wi-Fi may be higher.
Due to the extra design and engineering that goes into creating such a product. On the other hand, if you're looking for an affordable option, there are plenty of motherboards available without built-in Wi-Fi but which can support it through either a USB adapter or another piece of hardware.
Another factor that affects cost is the type of motherboard you choose. Some high-end models offer more features than others. Such as overclocking capabilities or multiple graphics card support. These types of boards typically come with a higher price tag than their counterparts without these features.
In addition, certain chipsets may also affect pricing. For example, Intel's Z370 chipset is more expensive than its H370 counterpart due to its additional capabilities.
When it comes to buying a motherboard with built-in Wi-Fi capability there are several things to consider before making your purchase decision. It's important to research various models. Do this to determine which one best fits your needs and budget while still providing the performance you need from your PC build.
What Is The Range Of A Wi-Fi Enabled Motherboard?
When considering a Wi-Fi-enabled motherboard, an important factor to consider is the range of connections it offers. Depending on the make and model, different motherboards with Wi-Fi could have varying ranges. This can be a crucial factor, as it can dictate how far your internet connection will reach your home or office.
As such, it's important to consider what kind of range you need when looking for a Wi-Fi-enabled motherboard. Generally speaking, the higher-end models will offer stronger and more reliable connections over greater distances. However, if you don't plan on using Wi-Fi extensively or don't need to connect from far away locations, then cheaper models may suffice.
It's also worth noting that there are many other factors to consider when choosing a Wi-Fi-enabled motherboard. For instance, some models might offer faster speeds than others and may even come with additional features like Bluetooth connectivity or additional ports for external devices. Ultimately, it comes down to what type of performance you are expecting and what features best suit your needs.
In the end, it's important to take all factors into account before purchasing so that you get the most out of your Wi-Fi-enabled motherboard and benefit from its full potential.
Is Wi-Fi On A Motherboard Secure?
When it comes to the security of a Wi-Fi-enabled motherboard, the answer is yes. As with any other internet-connected device, some measures can be taken to ensure that data and personal information remain safe and secure. The first line of defense is a strong password. A long, random combination of numbers and letters is best for keeping intruders out. Additionally, many motherboards come with built-in encryption software that helps protect data from unauthorized access.
Virtual Private Network
Another way to keep your Wi-Fi-enabled motherboard secure is by using a Virtual Private Network (VPN). This technology creates an encrypted tunnel between two or more devices. Allowing users to securely exchange data without anyone else being able to view it. VPNs also provide additional protection from malware and viruses. Finally, disabling remote access on the motherboard can help prevent hackers from accessing sensitive information on the device.
Overall, Wi-Fi-enabled motherboards can provide reliable security if users take the necessary precautions. Strong passwords and encryption software can go a long way in protecting data from unauthorized access. Furthermore, using a VPN can add an extra layer of security and prevent malicious activity like malware and viruses. Disabling remote access on the motherboard is also recommended as an added measure of protection against cybercriminals.
Conclusion
In conclusion, it's important to understand what you're looking for when considering a motherboard with Wi-Fi. If you need the range, security, and convenience of having Wi-Fi built into your motherboard, then it might be worth the cost to invest in one. You'll want to do some research beforehand to make sure you're getting the best deal and motherboard for your needs.
Of course, if you don't think that having Wi-Fi on your motherboard is necessary, then you can always opt for a less expensive model without the feature. It just depends on what you need or wants out of your system. No matter which route you go, though, make sure that you invest in quality components that will last for years to come.
Ultimately, whether or not motherboards come with Wi-Fi is up to personal preference and budget. With so many models available on the market today, there's sure to be an option that works for everyone. Good luck finding the perfect motherboard for your setup!