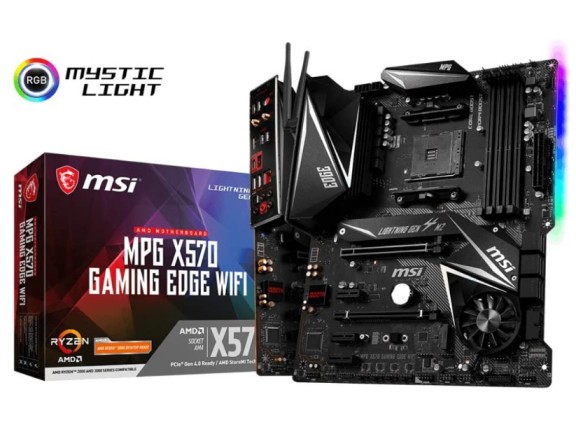 We're going to look at the MSI MPG X570 gaming Edge motherboard which is aimed at filling the gap between a basic budget setup and something on the higher-end. In addition, MSI has a long history of releasing many variations using the same chipset to fill the needs of each type of build.
From the truly basic motherboard such as MSI MPG gaming to the extreme heavy hitter GODLIKE series and rest assured that each one maximizes its targeted price point.
So, the gaming edge is no exception and carries various desired traits like RGB lighting and overclocking as well. The amazing thing about this motherboard is that it has a little bit of everything and does not break the bank.
Moreover, before getting the review, I feel it's important to note some of the hurdles I encountered during my review. It's mainly related to AMD AGESA code and how it can completely change the processor and memory operating protocols.
Additionally, I highly-recommended even before installing the OS operating system, you'll want to install at least the 7C37v14 BIOS, which updates the AGESA code to AMD combo. This fixed various issues with memory booting and unusually high CPU voltage as well.
Part of the reason why I've been working on this review for the part of two months is that I was having a very hard time trying to figure out, if the motherboard was an actual issue and if AMD rushed out a product before it was ready.
As each BIOS updates slowly made things more stable and it was clear this's an AMD issue and not MSI respectively. I'm happy to report that nearly everything I found an issue with has been fixed and hopefully, the BIOS update coming in November is the last for a long time.
Generally, MSI is off to a good start with its overall box design and clearly labeled information as well. If you did not have pre-knowledge of what you're looking for in an X570 motherboard. The information is clearly presented on the front and back of the motherboard.
It's also kept to just a few key points to hit home on the features that are most important and essential. After cutting a bit of tape, getting into the motherboard box is straightforward as the tab pops out and the clamshell-style box opens up simply.
Inside, there is a motherboard wrapped in an anti-static bag and wedge into the cardboard, so it does not move during shipping. Bot the most secure way to shipping the motherboards or things, but it is not as delicate as some think.
Underneath the motherboard, there're all the extra goodies like the driver disc, SATA cables, and of course the manual as well. In addition, MSI did include a nice quick or fast installation guide, which would get someone up and running very quickly, if they did not want to do some extra reading from the actual manual.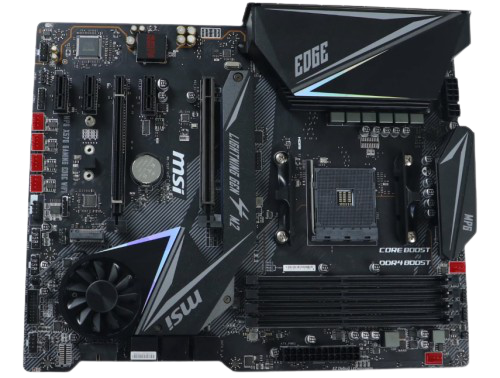 Furthermore, once pulled out of the anti-static bag, this best MSI MPG X570 gaming Edge motherboard looks to be less on the flashy side and focuses on functionality rather than the external flare.
This MSI motherboard does have full RGB peripheral support and a basic internal light strip down the right side near the 24-pin power connector, which is durable.
Besides this, the neutral black, grey, and white color schemes keep the design aspect simple yet not downright ugly. Additionally, when it comes to onboard audio, MSI opted to go with the middle of the road using a high Realtek ALC1200 HD audio codec chip.
It's actually quite good and most things above this's overkill for anyone using headphones to play games with comfort. So, the gaming Edge is using the now-standard isolation technique by splitting the audio section from the PCB.
Furthermore, this allows the audio to be close to other components and it still is electrically isolated to avoid channel cross talk and the distortion that tends to show up in lower-end audio solutions too.
MSI only rates this gaming motherboard for DDR4 RAM memory with a fast memory speed of up to 4400MHz, but I think it's overkill since the performance will be worse because the FCLK is divided by two at the frequency.
This division in FCLK adds an 8-20ns penalty to the latency which resulting in worse performance than using a DDR4-3000 memory kit.
In addition, installing 16GB dual-ranked modules was a hassle to get to run properly and DDR4 RAM memory with a memory speed of up to 3700MHz was a soft limit as I was not willing to tweak the sub-timing anymore after plenty of failures.
Filling all slots resulting in plenty of POST failures as this 64GB DDR4 RAM memory with a memory speed of 3733MHz didn't want to play nice. To be fair, it's not on the QVL list and the AMD Ryzen processors have been well documented to be extremely picky with memory.
Some of this part, due to using daisy-chained typography for the DIMMs slots, which can have very negative effects, when you filling all the slots.
Moreover, the X570 chipset not only controls the secondary M.2 slots, but it also controls all the PCIe slots with a direct interface to the CPU via the PCIe 4.0 4 slots.
Although, this can become a bottleneck if a second video card is used with a second M.2 solid-state disc. This's also, why the X570 chipset has a fan if need be. After hours of stress testing, I never saw a fan turn on and it was barely warm to the touch.
It's generating heat and if enough things are plugged in and lack of case airflow, then the chipset fan will kick on as it can reach up to 10W of heat output. On that note, if you're using an NVMe PCIe 4.0 slot, then they can get a bit warm and the Corsair MP600 was hot to the touch.
Additionally, if you're bold enough to remove the external heatsinks, then the MSI has provided a heatsink cover that loosely connects to the chipset fan heatsink. It's the preferred method if you're planning on keeping the NVMe drive on the PC or computer for long-term use.
https://www.youtube.com/watch?v=1vS5jyZ6mcc