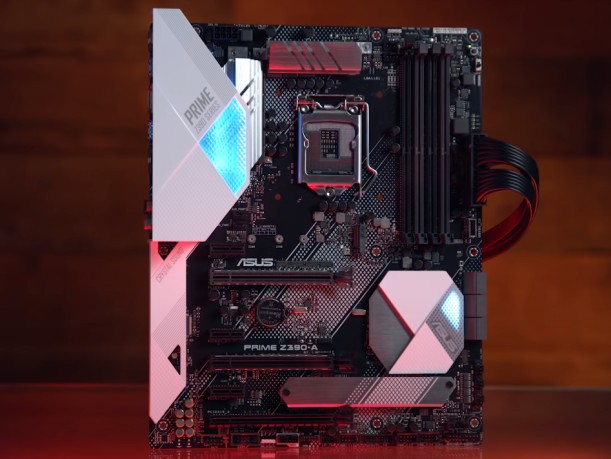 Professional gamer looking to have a good playing system you know that the performance is the first priority. And, nothing determines performance more than the board. If you've a good or the best motherboard with a nice PC or computer, you can enjoy your favorite games easily.
So, the Asus brand of motherboards has featured some of the to-quality or the best motherboards models in the market at reasonable prices. This time, we'll be looking at one of the best Asus prim Series, which named Asus prime Z390-A motherboard.
This Asus motherboard is specifically designed to offer new users an introduction to the sophisticated gaming world. Additionally, it provides some basic features, but it still has a overclock feature.
So, the fact is that this motherboard is affordable even makes it an exciting option to choose from, and let's cover the features and specs of this motherboard to see whether it's right for you.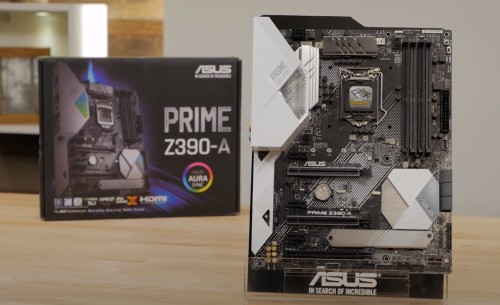 The memory capacity is very high enough and compatible with different types of PCs or computers and processors.
The amazing thing about this Asus motherboard is that it has four RAM slots with a maximum storage capacity of 64GB and it supports DDR4 RAM memory with a fast memory speed of up to 4266MHz.
There're good storage options too including M.2 slots that support SATA drives as well as 6 other SATA ports that operate RAID from 0 to 10-arrays.
Moreover, this best class Asus motherboard comes with about 7 USB ports including two USB 2.02.0 ports, two USB 3.0 ports, a USB 3.1 Type C port, and three USB 3.1 Type-A ports.
It also has a LAN port that is controlled by the Intel Gigabyte networking controller. However, at the rear panel, there're the mouse combo port, keyboard port, and HDMI port, and display port as well.
Asus Prime Z390-A LGA 1151 Motherboard AI overclocking feature
This Asus Prime Z390-A LGA 1151 Motherboard does not come with comprehensive features, the fact that the support AI overclocking feature is a huge plus for professional gamers and other PC users.
Although, the software is an essential feature in the motherboard, because of the intelligent work it does. Furthermore, it determines the installed processor's quality and finds the perfect voltage frequency for your rig, with this feature, you'll not be bothered about frying your computer or PC or underpowering it.
However, the overclocking feature is a significant safety feature that can protect or secure your system from damage.
Asus Prime Z390-A LGA 1151 Motherboard design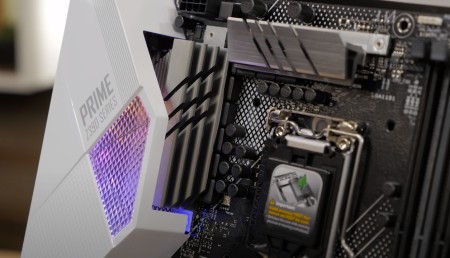 Asus Prime Z390-A LGA 1151 Motherboard comes with a black, silver, and white design and there is a white rear panel that covering the heatsink and it has built-in RGB and supports Asus AURA Sync as well.
There's also a white patterning design of the PCB which adds a bit of aesthetics and makes it look exceptional. Additionally, this best quality Asus prime motherboard comes with a lot of connectivity options.
it also has three complete PCIe 3.0 slots that operate at x4, x8, and x 16 as well. With this best feature, this Asus motherboard offers three-way multi graphics card configuration (GPU), in addition to the two-way SL support.
Although, the design of this motherboard and features make it an ideal choice for gamers. However, gamers can also benefit from certain features such as overclocking capabilities.
As a motherboard that supports 8th generation and 9th generation processors, then you'll not have any issue regarding the speed connectivity.
Asus Prime Z390-A LGA 1151 Motherboard – motherboard for beginners
Generally, Beginners, gamers can see the motherboard as an intimidating component. That's because of the number of tools and components built into the motherboards. But this motherboard has a very simple design with some critical parts.
And, if you already have a Strix graphics card, it'll be effortless to pair the card with this Asus motherboard. It'll unlock more features for you.
Although, other graphics cards will work very well and the STRIX card with this Asus prime motherboard offers you an affordable option with top-performance or high-performance.
This motherboard offers dynamic fan calibration with synchronized addressable headers. It's one of the least complex motherboards that you'll see/ Everything looks basics, but there're enough compatibility features.
Asus Prime Z390-A LGA 1151 Motherboard – 5-way optimization
This feature isn't presented in some motherboards. You'll only get this in high-end motherboards with plenty of components. Although, this motherboard has something to prove by adding the feature. In addition, a 5-way optimization feature has been upgraded for the Z390-A platform.
Also, there're reversed back-end which is built it to overclock the CPU based on the thermal telemetry and smart prediction as well.
So, the benefit of this feature is the very shorter time that it takes for overclocking. And, it delivers very fast overclocking results which'd require days to do if you are using manual tuning.
Asus Prime Z390-A LGA 1151 Motherboard – Ultrafast connectivity
When, you've a motherboard with support for up to 32Gps data transfer rate, then you would not have any issue when gaming or multitasking.
Also, you can experience unmatched connectivity with its reversible USB 3.1 Type-C port and backward compatible USB 3.1 Type-A drives as well. With these durable connections, you can also experience a high data transfer speed of about 10 Gps.
The x 4 PCIe 2.0 or 3.0 bandwidth is ideal for an application drive or an OS operating system, especially when you want a fast or quick data transfer speed.
Moreover, the Z390-A makes use of an audio codec that works in collaboration with a Realtek. Although, it equally comes with an impressive 120db signal to noise ratio for improved output.
This may add clear and resounding audio quality as well. There's also a circuit that independently senses hindrances to the audio performance.
So, the software can automatically adjust the gain for an optimal volume level of headphones. You can also easily upgrade the features to upgrade to the universal audio.
Asus Prime Z390-A LGA 1151 Motherboard – robust design with matching aesthetic
A properly built system surely needs matching aesthetics and this motherboard didn't disappoint in this area. This motherboard provides complete RGB lighting control with a very wide range of functional presets.
There're also connected strips to the RGB headers which give it an impressive and incredible appearance. But the fact is that it syncs well with the Asus prime Z390 hardware.
That's the beauty of having a very simple motherboard with all features that you'll ever need to play your favorite games and do plenty of things very quickly.
https://www.youtube.com/watch?v=M_khtynqQLc